Letters from Students: Mike
by Jay Skyler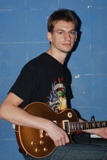 "Seriously awesome guitar teacher!"
"I started taking lessons from Jay before I even had a guitar - after wasting way too much time on guitar hero 1-3 and rockband, I decided it was time to learn to actually play.
"I took lessons from Jay for about 11 months (only stopped because career moved me to Boston) and learned more than I thought possible given my age / complete lack of dexterity.
"After a few months I even bumped up my lessons to twice a week as I found that I was noticeably better after each session.
"Jay has a very unique / fun / engaging style of teaching the guitar. I've continue to play almost daily in Boston, though without the constant progression I enjoyed while working with Jay. "
- Mike
Details

Category:

Guitar Lesson Reviews