www.JaySkyler.com's 10 Year Anniversary!
This section is conceived as a reference library of guitar charts and an overview and recap of material covered in an actual physical guitar lesson with me in SF, CA. Many have expanded into full blown online guitar lessons, but if your looking for a linear how to play guitar manual, this isn't it. Although these lessons and charts can be seen as an overview or catalog of subjects covered in my guitar method, the sequence of which and how they are manifested in any given guitar lesson with me is adapted to each students learning style.
But for those of you who can only get them online: if you are a rock, metal, or blues player learning on your own I suggest this sequence of study for scales: Blues, Pentatonic Major, Natural Minor, Dorian Minor, Spanish Minor, Major Blues, Harmonic Minor.
These are all scales and chords for "Big Boys and Girls", they are what I use in my own music. Don't waste your time on easy kiddy stuff, or something you never see the pros play, like the obviously crack cocaine inspired "barred G form" and similar episodes of fretboard system sadism.
The website now draws between 8,000 and 12,000 unique visitors a week, yet I've worked very hard to keep it 100% FREE for everyone.
So here's what you do: Learn the scales and chords, try and learn stuff by ear, NEVER learn solos note for note off TAB, learn to sing and play at the same time, improvise ALL leads, write your own damned songs, don't sell out, learn to play fast by practicing slow, dress cool, if you can't handle the drug don't do the drug, it is your right as an American to do a feedback drenched version of the Hendrix star spangled banner at any time at any volume, crush corporate rock, be prepared to rock any campfire or coffee house, never a half stack, always a full stack or a combo, challenge dudes on YouTube to demonstrate the technique without the delay pedal for once, thumb up top, lower that strap it ain't a fiddle, turn it up tear it up, no fear, your neighbors will move...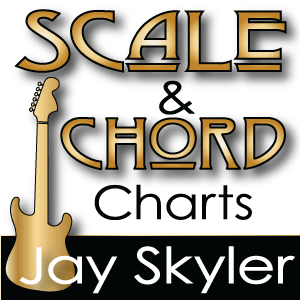 Story of Jay Skyler's Guitar Scale and Chord Charts
About 7 years back, one of my guitar students (Patrice Borne) suggested I put some of the charts of the scales we had covered on my website so students would always have access to them. He also suggested it would make a great "portfolio" so potential students could see the wide range of material I could cover with them. I thought it was a terrific idea, but realized it would be an insane amount of work.
He then scanned all the hand drawn diagrams I had made for him (he was an advanced student so there were many.). Not satisfied with that, I created the Series 1 Diagrams by taking my blank diagrams and putting dots on them in Microsoft Paint (no joke).
After getting countless thank you emails and a copy of Adobe Illustrator I began replacing them with the current Series 2 Diagrams, which is why 95% of you are here, they have taken years to make and they are exactly what I've always wanted for myself and my students. Thanks for all the emails letting me know that Google often selects my charts as the definitive picture displayed in the knowledge graph box on the top of the first results page. I had no clue.