Guitar Lessons with Jay Skyler

Guitar Lessons with Jay Skyler
Yes, I Do Offer Online Guitar Lessons via Skype! Call (415)845-5471 or email for more info.
5 Star Rating on Google Local Business
5 Star Rating on Facebook
5 Star Rating on Yelp!, Bing, & Yahoo
What You REALLY Need to Know About

Guitar Lessons
If you take one thing away from this website it should be this: You Can Learn Guitar! My number is (415)845-5471. Give me a call if you want to play Rock, Blues, Metal, on electric or acoustic guitar.
My course is for those who want to create and perform their own original music with power, style and authority


...and especially for those who think they can't.
Plus be able whip out some covers at campfires and coffee houses whenever the mood strikes.
FYI: For me creating= songwriting + improvising. And despite everyone always denying the importance of these two things, if you can stick with it:
You will able to play fast.
You will be able to sing at the same time
If you think you have solid reasons WHY you can't learn guitar, I assure you, you have been "misinformed". Jump down the page to read The Top 10 Lies About Guitar Lessons.
 I am an experienced musician, teacher and performer with lots of patience and a strong memory of not being able to tune my guitar, let alone communicate with it.
Years later I can play and express things on the instrument I couldn't even conceive of when I first started. When I first learned how to practice and approach the instrument properly I made more progress in three months than I had in the first three YEARS of playing.

Table of Contents
If you've never taken lessons or played guitar before know this:
Absolute beginners are the EASIEST type of student to teach. No bad habits at all.
In six weeks you'll be where myself and most folks who either had lessons using the traditional method books or were self taught, were in about a year and half to two years (if they ever got there at all). And you'll never even know it.
Guitar for you will be fun from the beginning. 
You will have laid the foundation for a lifetime of unimpeded progress.
If you are ready to learn to play with confidence and style, drop me an Email at rockguitarlessons@gmail.com and we can talk details.
Oh, I had tried lessons but at best they just showed me what to learn, not HOW TO LEARN IT, or how to approach the instrument. In reality I hated  them, the graded "Method Book" and that whole miserable head space I remembered from piano lessons.
"HOW do i change the chords?," I'd ask. Not one of them could ever give me any answer except "practice." Sound familiar?
I felt discouraged and rejected by the world of music as a whole. In retrospect, I had no grounds for selecting a teacher. I knew very little about guitar and guitar lessons and as it turned out, everything I did know was wrong.
Except there was one thing I knew was right,:
Guitar should be fun, cool, and a bit rebellious.
 Its very existence, electric or acoustic questions authority. I felt then  that guitar lessons shouldn't be like piano lessons, which I saw as a method for teaching children to hate music.
The standard method book used for guitar lessons to this day predates Rock 'n' Roll (published in 1948!), and has the dubious distinction of being the universal method of teaching sight reading on an instrument where virtually no one can sight read. And quite frankly, sight reading is about as useful as conversational Aramaic if you play popular music styles on guitar. I only teach it on request. Why?
Wasting a students time by making them suffer through something of zero usefulness to them simply because the instructor had to suffer through it, that's not teaching. That's hazing.
The Answer was not to be Found at a
Music School
From my perspective today, having taught at music schools, having spoken to music teachers in San Francisco and from around the world, and ironically now that I am an  active and vocal member of the music education industry, I realize I was wrong in one respect. Music schools and corporations who refer you to teachers for guitar lessons are not in any sense trying to  teach children to hate music. In fact they are simply trying to maximize profit with the lowest cost overhead, the method books are designed to stretch the learning progress out indefinitely while providing parents with tangible but utterly meaningless indicators of progress (e.g. signed completion certificates at the end of each book.) Music stores/schools have some standards, referral services have none.
I Found Great Teachers but Not Through Guitar Lessons
To be fair, I could have found great lessons when I was a kid. One local teacher was apparently amazing, one of his students even went on to play lead guitar for Ozzy Ozbourne (i.e. Zack Wylde). But I just walked into the local music store, got ripped off, and swore off formal lessons.
It never occurred to me that I could find an independent instructor.
I like so many others missed out on countless opportunities  in music because the music shops and publishing companies wanted to make a few extra bucks.
Guitar Teachers are not necessarily Guitar  Instructors
I learned a better way, largely from almost famous rockers and professional New York Jazz musicians.  I brought my guitar everywhere and tried to make friends with anyone who knew anything at all. I got lucky and found some amazing players,not all of them guitarists, who taught me more in the first hour of knowing them than "lessons" ever did. They were my teachers although they weren't employed as instructors. Which is why I prefer the term guitar teacher over the term guitar instructor.
I quickly learned that Rock, Folk, Metal, and Blues require a much different perspective from Jazz and Classical Guitar . So I spent years adapting their methods to popular music styles, both for my own playing and writing (I play lead guitar and sing in my own original music rock band) and for my students. I made it step by step, integrated, and less intimidating.
The Goal of My Guitar Method and Guitar Lessons
My goal has always been to teach my students (and myself) how to express themselves on the guitar, find their own voice, and, quite simply, play the hell out of the damned thing. And I've been doing just that full time in downtown S.F. since 2003.
Don't wait any longer. Give me a call. Even if you don't have a guitar yet, I can help you choose one and probably get you a discount as well.
YOU CAN PLAY GUITAR if you want to.
It takes much less time than you think if you start out right.
Gift certificates and student discounts available.
Females and Males, Young and Old, Rock Stars and Absolute Beginners All Welcome!
Thanks,
Jay Skyler
Teaching Rock, Blues, Metal, and Singer-Songwriter Folk on Electric and Acoustic Guitar
Convenient Downtown S.F. Location:
Guitar Lessons are only 1 block from Market Street, Civic Center & SOMA, & just a few blocks from the Financial District. If You're in the Mission, Sunset, Richmond District, or Oakland Bart, & MUNI is just a half block away.

No. They are largely worthless and usually they are counterproductive. These are usually only offered by corporate chain stores and corporate referral services. Community colleges offer them as a way to get stoners, burnouts, and metalheads closer to a degree by getting them some core credits for their independent study of music (which I think is a good thing).
I am open to the idea that someone could possibly develop a breakthrough system for group classes, but in general they are of value only to intermediate or advanced students. The beginning students who "succeed" are the ones who already knew the basics but took the beginner class so they wouldn't be the "worst" one. They tend to push the actual beginners to try too hard, tense up, and attempt more difficult maneuvers before they have the underlying structures mastered.
But let me qualify this: any kind of lessons with a good teacher is better than any kind of lessons with a bad one. Comparing the abnormally high success rate of my system with that of other teachers is somewhat unfair. As I discuss below, my system is designed specifically for adult and teenage students who want to learn Rock, Metal, Blues, and Singer Songwriter style folk music. The vast majority of the market is little kids who don't know what they want to play, with parents who are often oblivious to to the fact that there are typically no guitars in symphony orchestras, and therefore no resulting step up the nouveau riche social ladder for their child studying classical.  
By the way, I treat all students as adults, I do not yell at, or give any students any flack for how much or how little practice time they get in during a week. Its your money and your life which you have to prioritize. If you show up every week you will get better. Obviously practicing correctly at home will dramatically increase your results, but as an instructor the only time I can control is class time. If you want me to get on your ass about practicing, I am happy to, but you must specifically request it.
Practice makes Perfect Permanent
Any thing you learn wrong, you have to "unlearn" to learn the correct way. This can be a frustrating process. If you are in this boat already, I can help! I have helped many others in the same scenario become really impressive guitarists.
Start on an Acoustic or Electric?
The Top 10 Lies About Guitar Lessons
The Reasons People Can't Learn Guitar
No Musical Talent?
Truth: There are no "Natural-Born" Guitarists
When a guitar teacher (or any other music teacher) can't teach a student, they say he or she has no talent. As if its written in stars. "Talent" really only applies to singers, as some one's vocal sound may well match the tastes of a given era.
This doesn't apply to guitar. Its a tool. Some people are natural athletes. The reason is simple Darwinism. There is a survival advantage in running faster or jumping higher or having sharper eyesight.
There is no survival advantage in playing guitar, therefore no inborn talent.
At no point in prehistoric times did any caveman remark "He can make the G chord, he shall be our king."
Talent means you are good at something. Being good at anything means you learned it the correct way.
Too Old?
Truth: You are not too old to learn guitar.
I have had students begin guitar lessons in their 70's who, to be frank, now OWN all your friends who play guitar.
Little kids have a huge disadvantage in that they don't know what the music is supposed to sound like. Until they start listening to guitar music on their own they really shouldn't be taking guitar lessons (I would suggest singing or drum lessons instead).
Older students have listened to more music and have done more living.
If they start out with correct technique and a solid musical framework, students of any age can play well, as long as they know and love the music they want to play,
Too Female?
Truth: "Girls" CAN (and do) Play Guitar
"Girls can't play guitar." If this top ten list were in order of stupidity this would be #1. Women still ask me about this, and to be honest I've heard this so many times from people ranging from 7 year old kids at music schools to professional musicians who should know better. I really hope that this complete and utter fiction invented by insecure male guitar players doesn't survive much longer.
Women have ALL the advantages on the guitar:
Better fine motor muscle coordination
Better study habits
A vocal range better matching the pitch ranges guitar leads are usually played at.
The only disadvantage they have is people telling them they can't (which only is a disadvantage if they believe it).
Don't believe it because its sexist nonsense.
If music teachers and the music education industry wanted to, they could utterly erase this idea from popular consciousness within a decade. Why don't they? Stupid, sexist or lazy, take your pick. But no one should give this idea any credibility. And gentlemen, I'd avoid repeating this trash because I've taught just so many women over the years whose playing will shut your mouth up real fast.
Not Enough Practice Time?
Truth: Make it once a week, You'll Improve
Obviously if you have more time to practice outside of your guitar lessons, and you practice correctly, you can make more rapid progress. But as a guitar teacher the only time I have any control over is class time.
If you show up for an hour a week, you will get better.
I really have no idea the exact amount of time students practice.

I do know that without fail for 12 years, consistent attendance at lessons has equaled success.
I treat all my guitar students as adults. My job is not to yell at you for not practicing (unless you specifically ask me too).

My job is to make you the best guitar player possible given your priorities and the time constraints of your life.
Tone Deaf?
Truth:
You are not tone deaf. If you were it would be obvious. You would talk without vocal inflections. Completely monotone. Like a 50's Sci Fi robot.
Musical pitch recognition on guitar or in general takes some time, but you will pick it up.
Hands Too Small?
Truth:
I've taught guitar to many student with tiny hands, and there is no difference in the rate of progress between them and anyone with bigger hands.
Inability to reach notes in a guitar chord or guitar scale pattern is a result of improper left hand positioning. I will show you exactly how to do it.
No Rhythm / Weak Rhythm?
Truth:
This is a common problem. But isn't this in part what you are paying to learn?
It can be taught, and you don't need a metronome,
Left Handed?
Truth:
There is no disadvantage to being left handed.
I do however suggest beginners learn on a "right-handed guitar".
Lets be honest here. When first starting out both hands are pretty much equally inept at doing anything on the guitar.
But a big part of the fun of playing guitar is being able to sit in and play in spur of the moment jam sessions. There is always an extra guitar around, there is never a left-handed one.
Not Classically Trained?
Truth:
That's actually a good thing if you want to play on an Electric or  Folk Style Acoustic guitar. Check out the chart.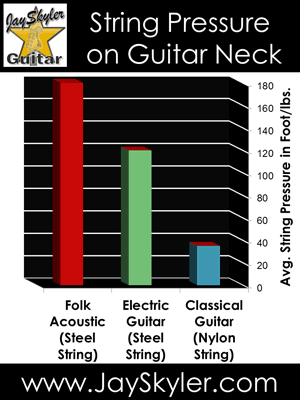 Classical guitar technique is designed for (surprise!) classical guitars. Steel String Guitar technique (also called American Blues technique) is designed for both electrics and our singer-songwriter style acoustics which have steel strings. The difference is the massive differences in string tension. People have often come up to me after live performances, complimented me and said "Your classically trained right?" At which point I'll tell them I'm not but I understand they mean it as a compliment.
The irony is many instructors who teach you to play with classical technique on a steel string are not even classical guitarists, and many of those don't even use the classical technique themselves! Using classical technique on a steel string can be a real good way to mess up your hands!
Nylon string Technique (for Spanish/Classical Guitars): The thumb is behind the neck with a consistent relationship to the second finger (i.e. middle finger). The strings are sounded with the right hand fingernails with the exception of the pinky.
Steel String technique (For Electrics and Steel String Acoustics: The left-hand thumb comes over the top of the neck, and leverages all techniques requiring strength, enabling them to be powered by rotating the wrist. The strings are sounded using a pick or less commonly using the right hand fingertips.
If you want to play classical guitar, I'm not the right teacher for you. I teach steel string technique. If you want to learn more, please read my The Two Ways to Play Guitar.
FYI: Any teacher who teaches you to play any differently than they themselves play is incompetent or a fraud. Find a new teacher.
Too Loud for Where You Live?
Truth:
A steel string acoustic can be really loud, especially when you don't want it to be. Electric guitars are practically synonymous with loud! But I'll let you in on a few little secrets:
Electric Guitars are not very loud without an amplifier.
Headphone amps are available that sound pretty good and are under $30.
Electrics and Steel String acoustics use exactly the same technique.
So all you really have to do is start on an electric with a headphone amp, and you will instantly be able to pick and play up virtually any acoustic you see (except Spanish/classical nylon string guitars). Here's an important point:
You do not need to start on an acoustic!
It's actually a lot easier to start on an electric, a big part of which is the neighbors not distracting you by banging on the walls. The whole you need to start on an acoustic is really just an old music store scam to sell you two guitars. Everybody believes it, but its just not true. You can read an in-depth explanation of this bit of popular wisdom here: Should I Start Playing on an Acoustic or Electric Guitar?
"Jay Skyler is the Best Guitar Teacher Around. Period."
"Jay Skyler is the best guitar teacher around. Period. Wherever you are in your guitar-playing journey, Jay can make you better than you ever thought you'd be."
"After working with a couple of other teachers over the years and getting nowhere, I thought lessons weren't for me - that is, until I came across Jay. Now I'm playing a trillion times better and with tons more confidence.
"And the progress I'm making has made me love the guitar even more. He not only teaches you the flash, but he also teaches you how to get the feel. He encourages improvisation and creativity so that you can find your own style. There's no way I could have gotten to where I am now (and I'm still learning) if it weren't for Jay.
"His lessons are so much more than just scales, theory and technique. Yes, you'll get all that taught to you in a fun and easily-understandable manner, but as a veteran, working musician, Jay teaches you everything that a guitar player should know. From repair and maintenance, the right amp to buy, all the way down to pedals, picks and straps, they guy teaches you all the little things the by-the-numbers guys never even touch.
"Not only is he one helluva teacher, he's a super bad-ass player. If you can catch one of his gigs, make sure you see for yourself how talented this guy is. And the beauty of Rock Star Jay is that he's more than willing to share the wealth of knowledge he's picked up over the years. A true musician's musician.
"Point-blank, he's the best teacher in town - and the most affordable. Not often you see that combination, huh? If you're serious about wanting to play, call the man. You'll be glad you did. I sure as hell am."
Tommy McDonald
5
Star Review for:
Guitar Lessons with Jay Skyler
My system for teaching guitar is an accelerated program for adult and teenage students. Even with minimal practice time students are able to progress far more rapidly than by learning  from  their friends, YouTube videos, or traditional guitar methods.
My Guitar Lessons are for Ages 12 and Up
I simply cannot deliver the same dramatic results with young children. My guitar lessons make an a priori assumption that students who want to learn to play a certain genre of music know what that genre sounds like. Usually kids develop their taste in music around 12 or 13, its also when they can handle a full scale guitar, and that's also the age virtually all the rock guitar gods started playing. 
You want your child to get a head start on music before age 12? Get them singing lessons. You will thank me later.